OK, technically, this is "Exploring Cambridge," as I had to cross the Charles to see this, but still...
Yesterday, the Cambridge Arts Council put on a kind of medieval circus on Cambridge Commons. The troupe was Bread and Puppet, whose motto is "Cheap Art and Political Theater." Yesterday's event was called "Possibilitarians."
It was lot of fun, although it was also passing strange.
The troupe literally drummed up business with an impromptu parade through Harvard Square, carrying signs that said "Free Circus."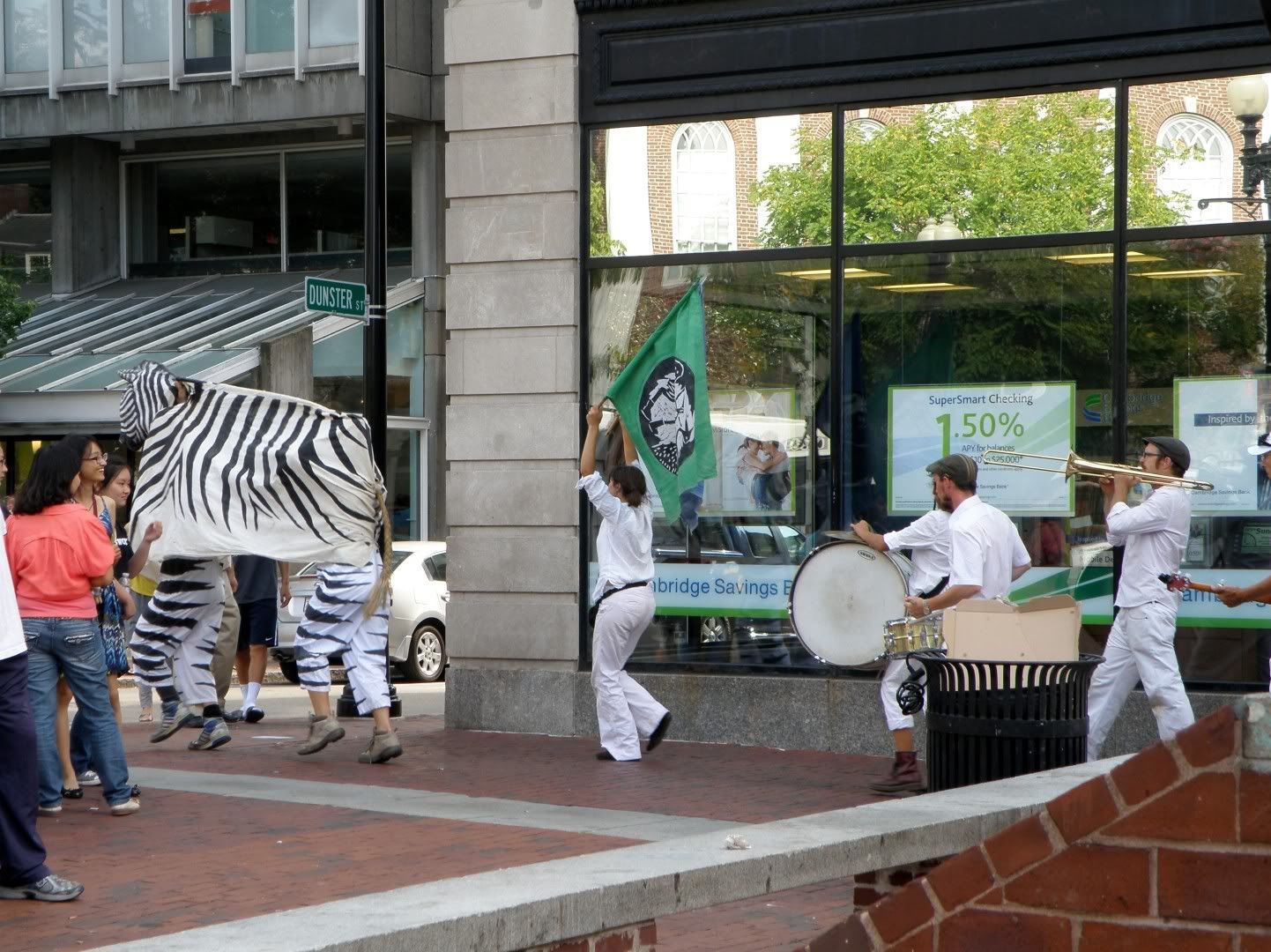 The "Cheap Art" was no misnomer. Everything was hand-done with a kind of rough-edged vitality. Here's the backdrop they used.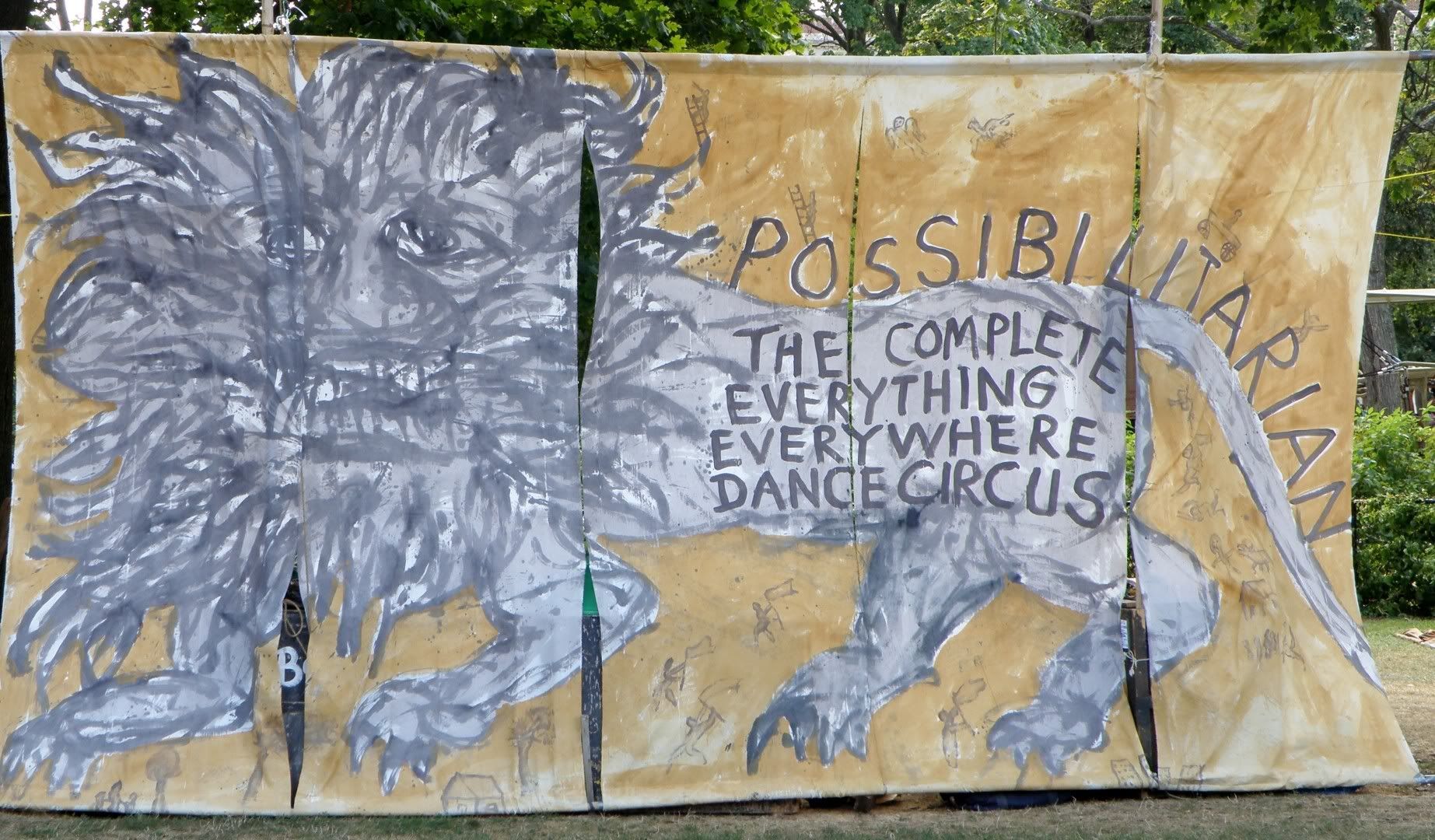 They started with several musical numbers to engage the crowd, and also to make noise and attract more passers-by. They're pretty good musicians. Everything's acoustic: neither the instruments nor the performers' voices were amplified.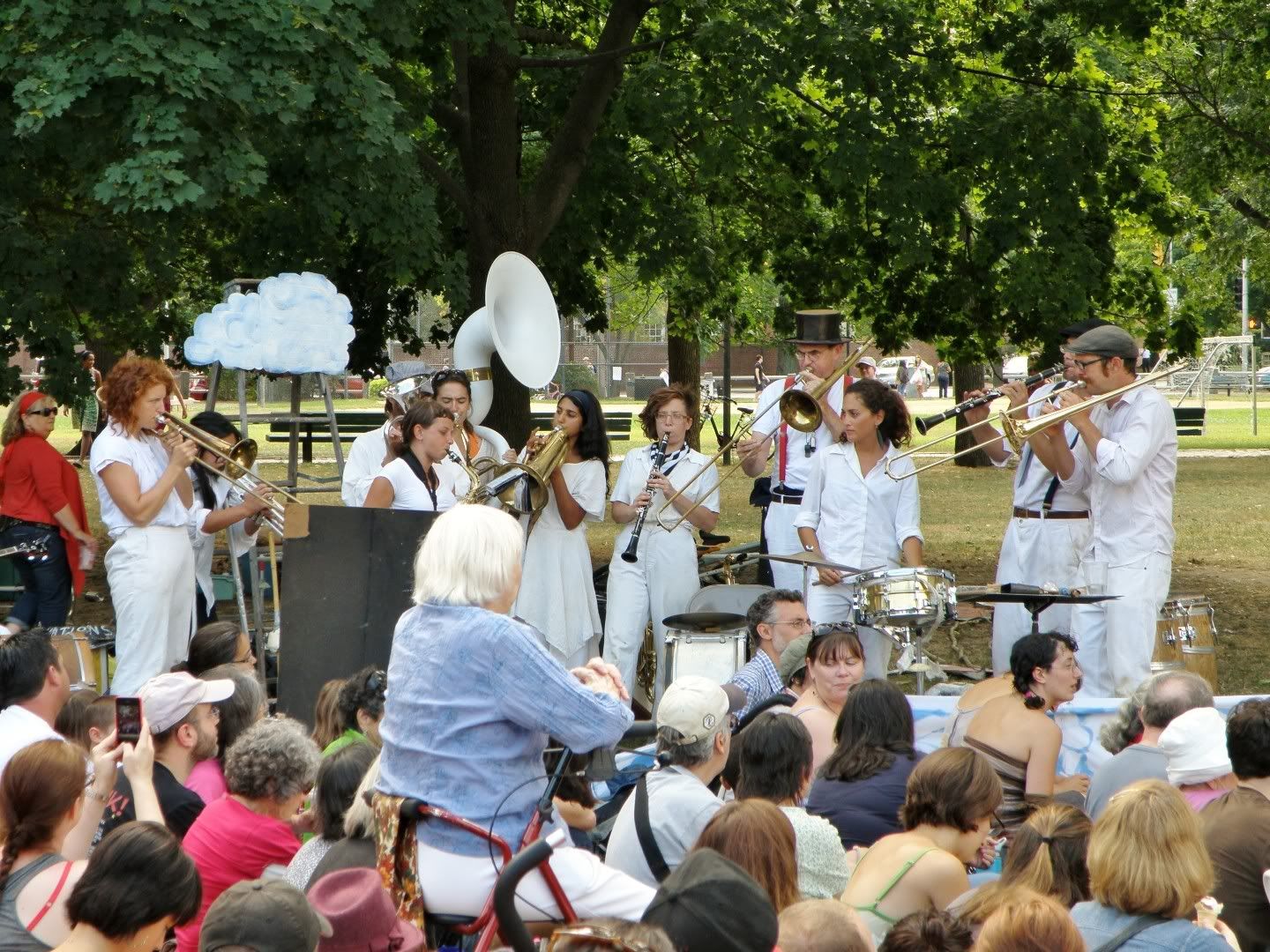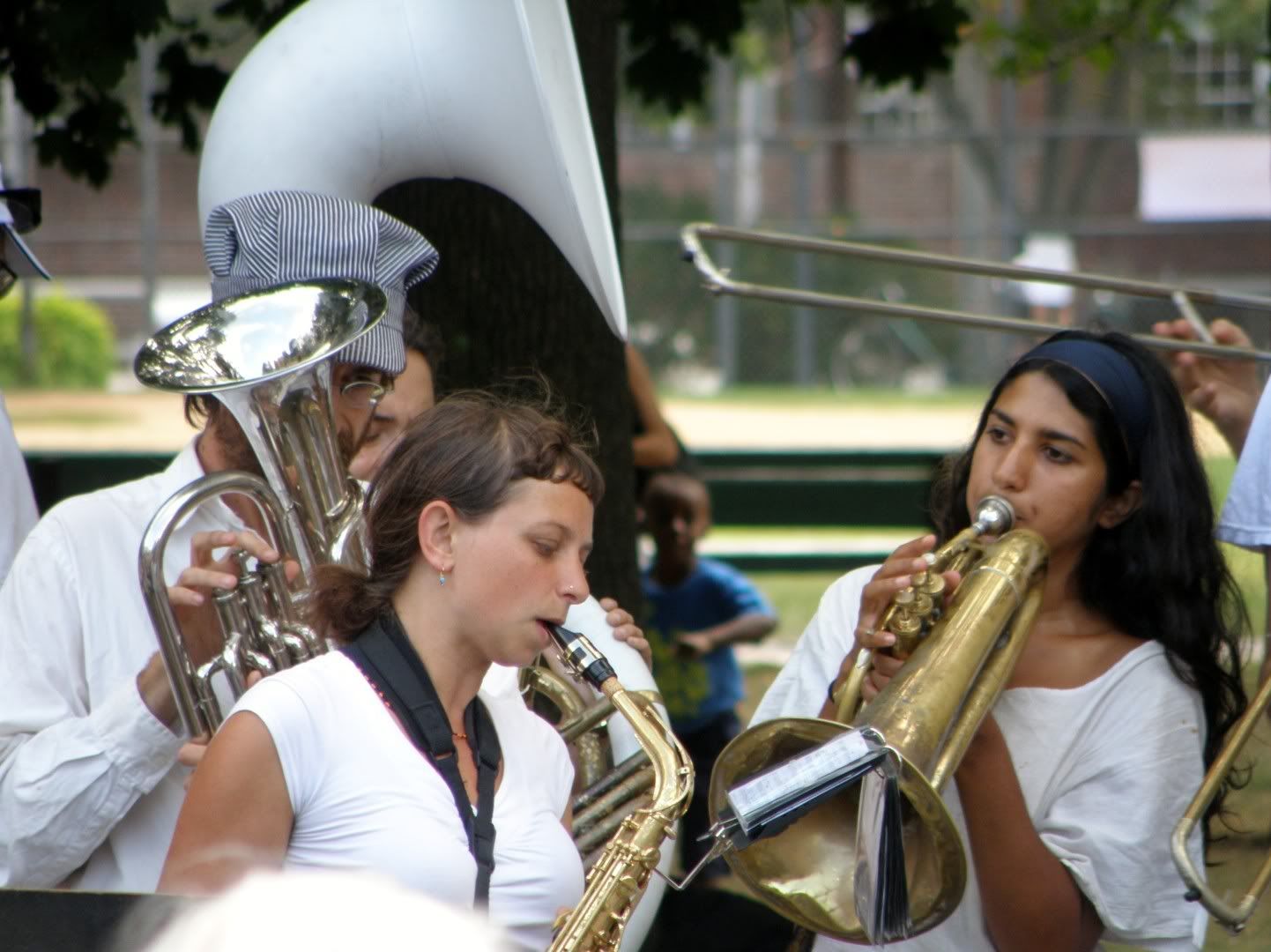 Even the stagehands were in costume. The costumes and props were cloth, wood, and papier mache; a form of medieval theatrics that I think Shakespeare would have found familiar and inviting.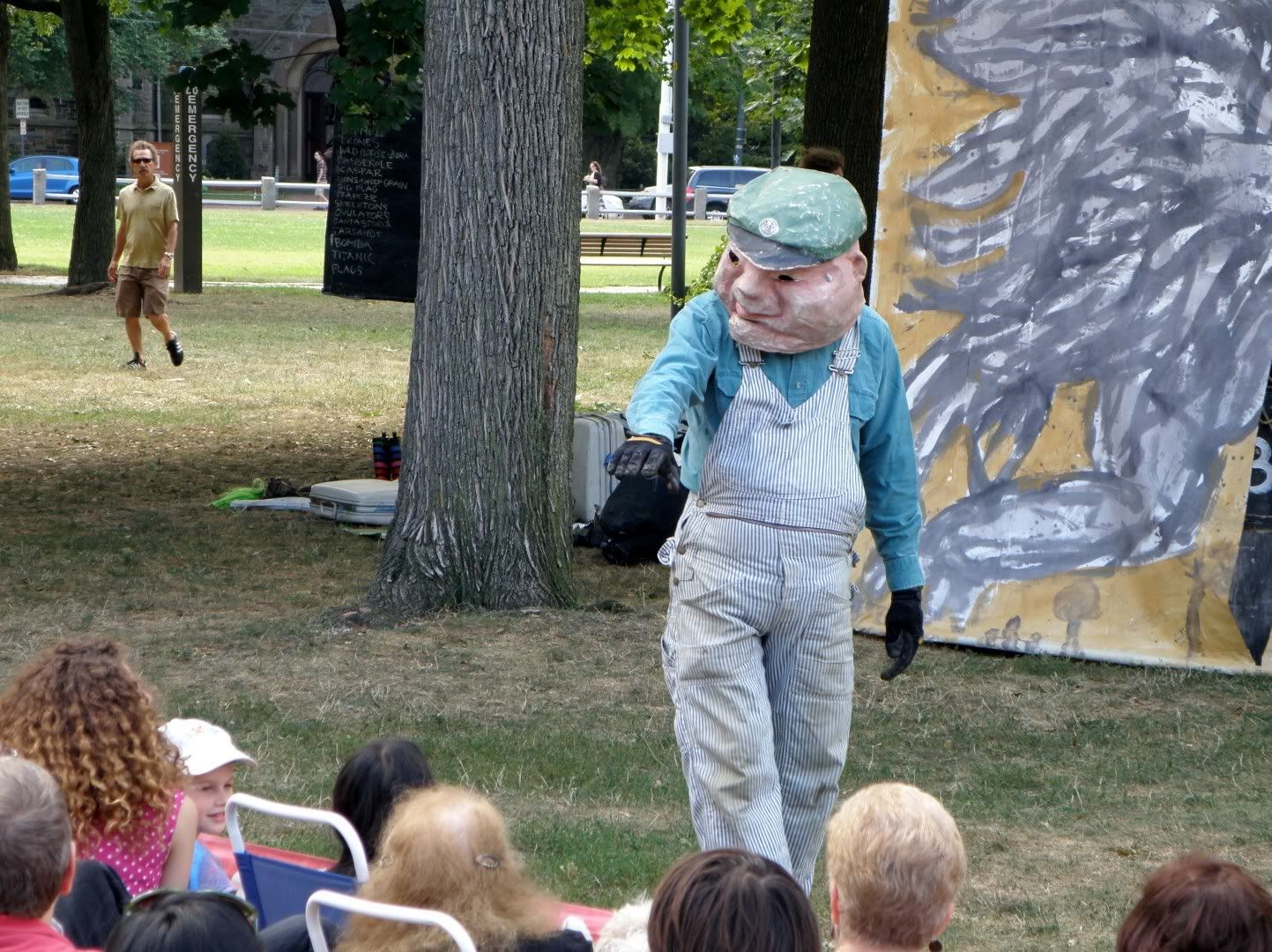 The show opened with a vigorous puppet-dance thing.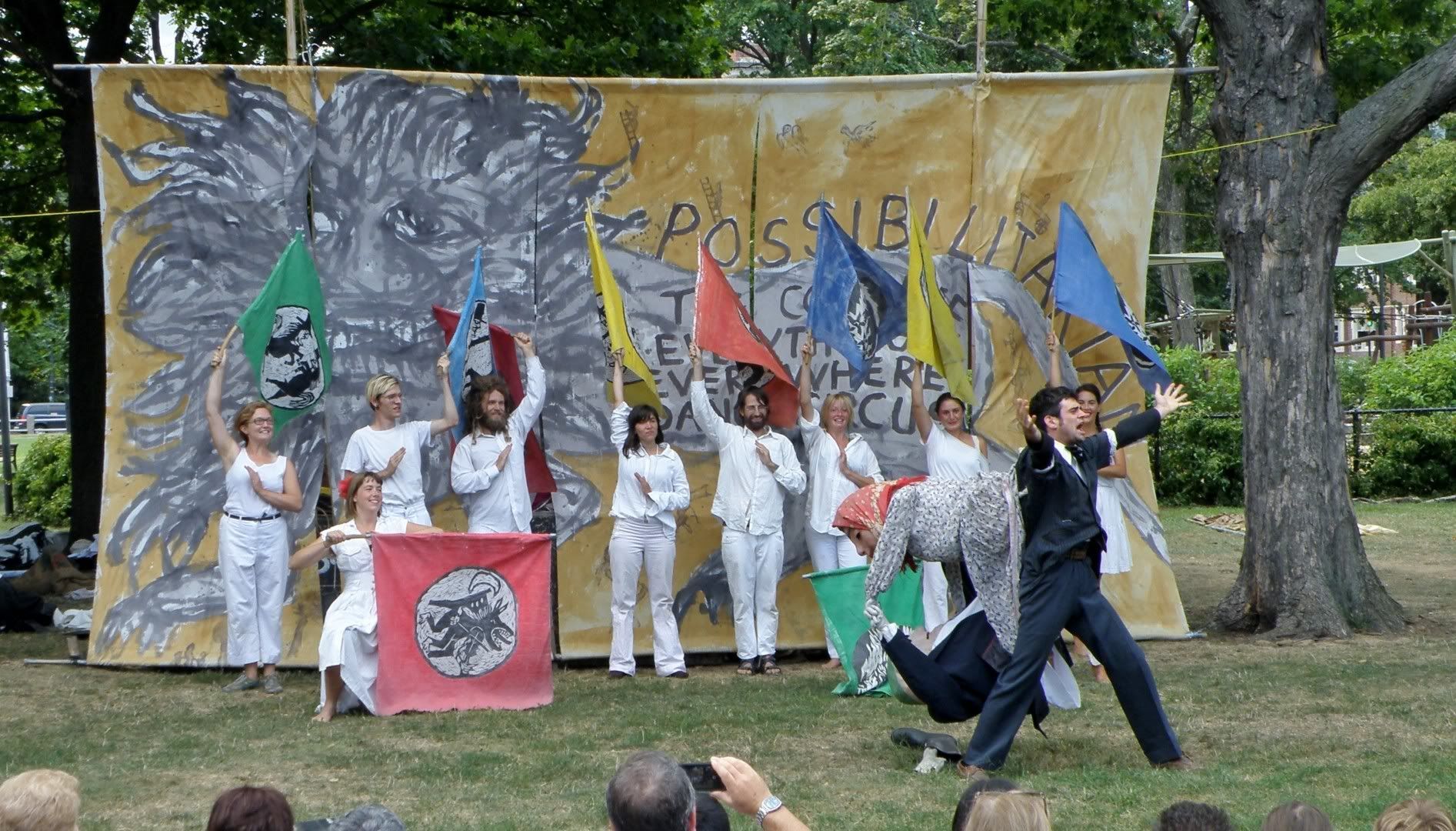 The first skit was a spoof on Don Quixote, but the windmill the stilt-walkers tilted at represented wind farms. That was a "Hmmmm...." moment for me --- they're against wind power?
In this skit, recent graduates are being attacked by student loan debt. No one will accuse Bread and Puppet of being subtle.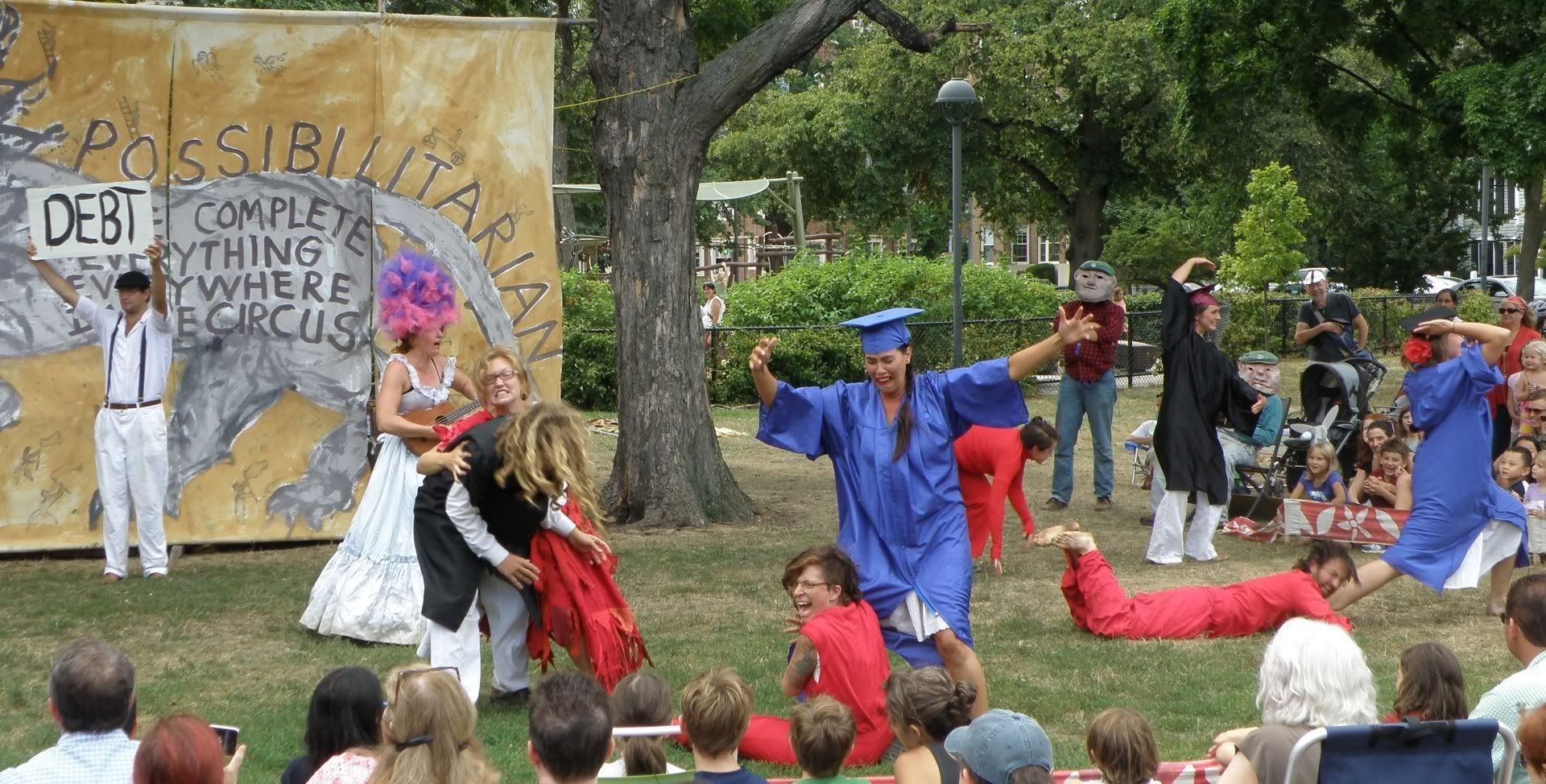 Here, the graduates are tantalized by a job, just out of reach.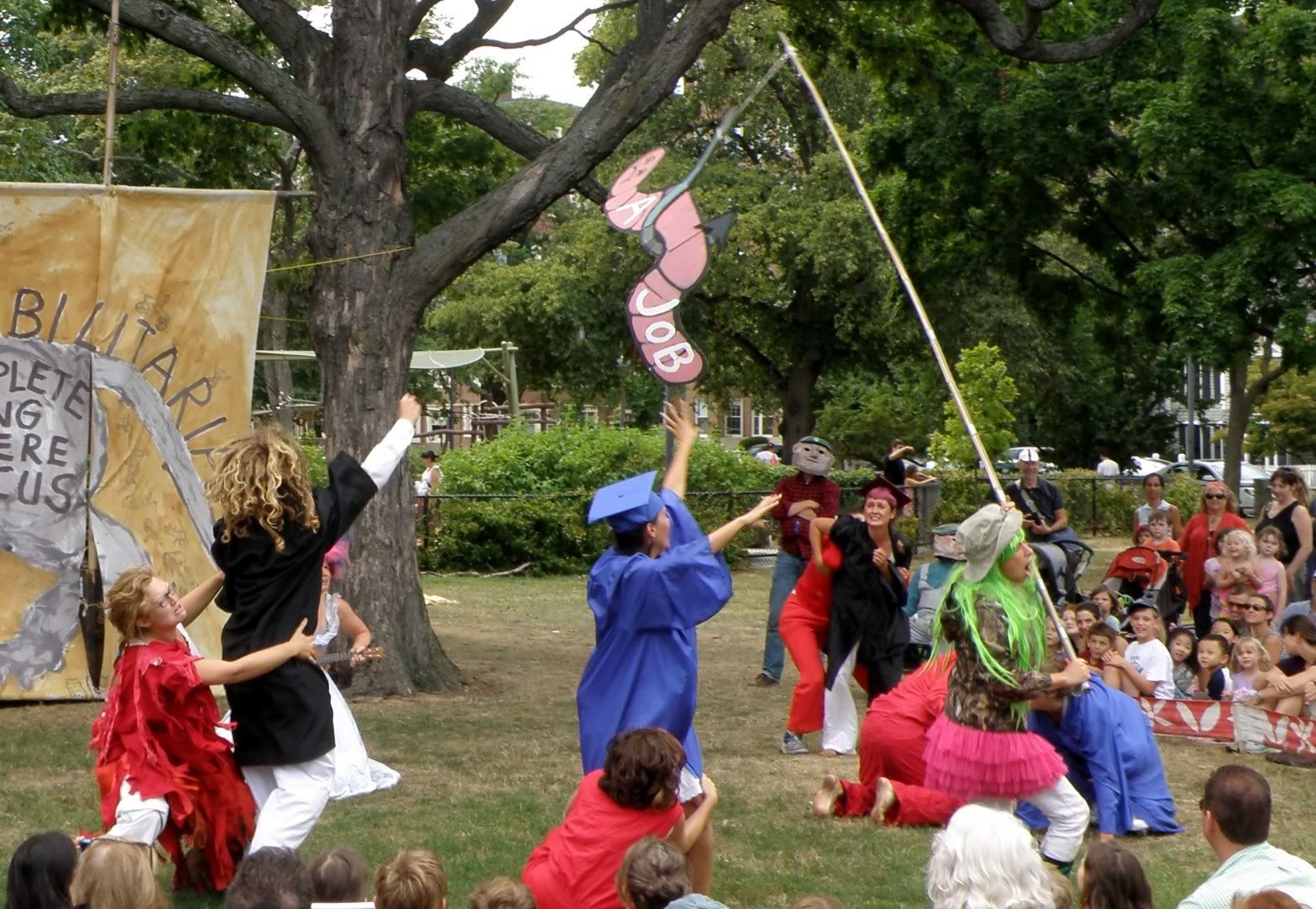 This was weird. It started with a "War, huh, good god y'all, what is it good for? Absolutely nuthin'" musical bit...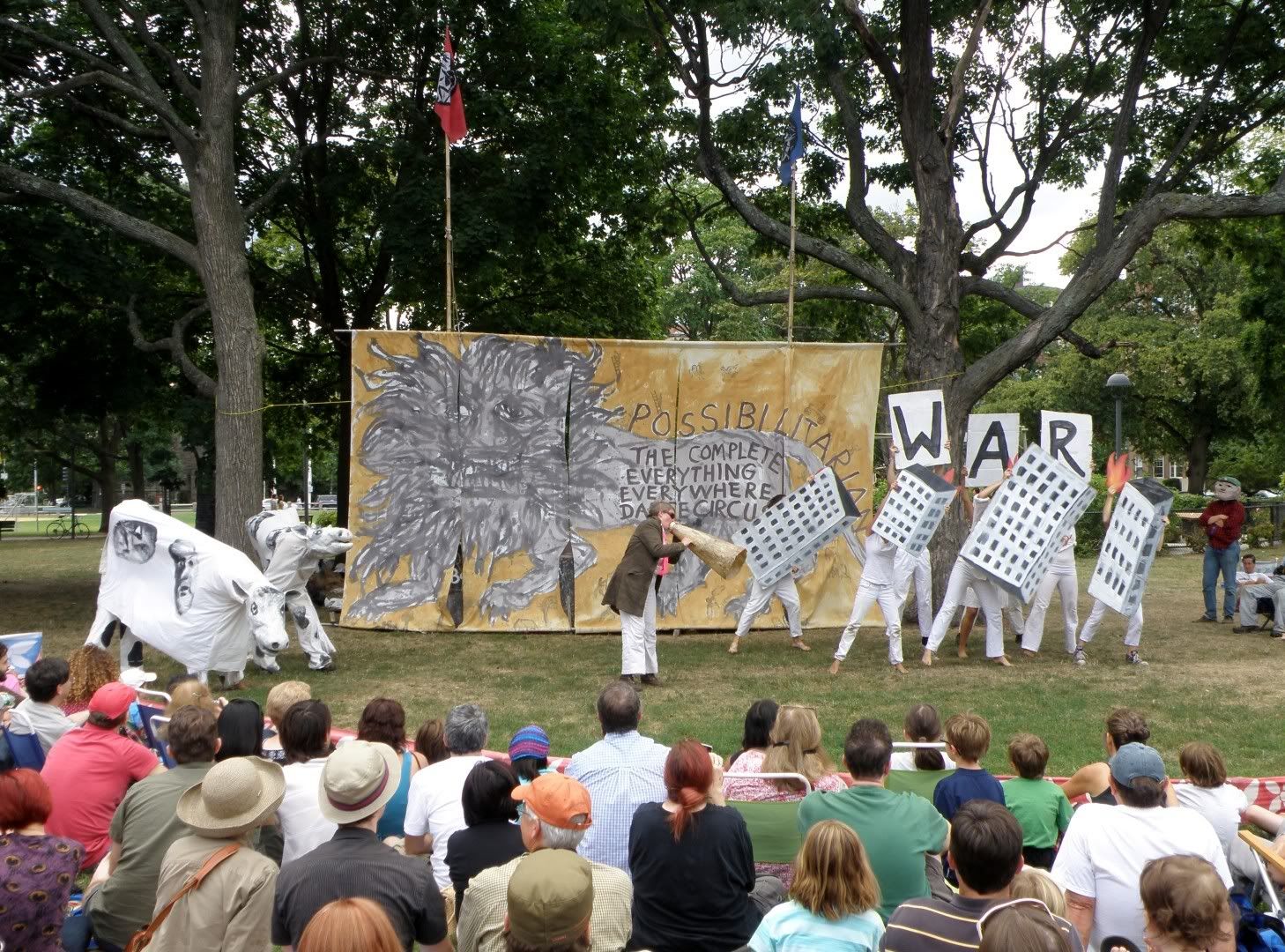 ... but then morphed into "Raw milk, good god y;'all, what is it good for? Absolutely everything!" So I guess the medieval aspects of the troupe extend to microbiology as well.
The political theater was fun to watch, but increasingly unsubtle. Here peaceful third-world shepherd peasants enjoy a bucolic moment...
Until:

A flag dance provided a little apolitical spectacle.
A subgroup of performers meandered through the crowd while the music played...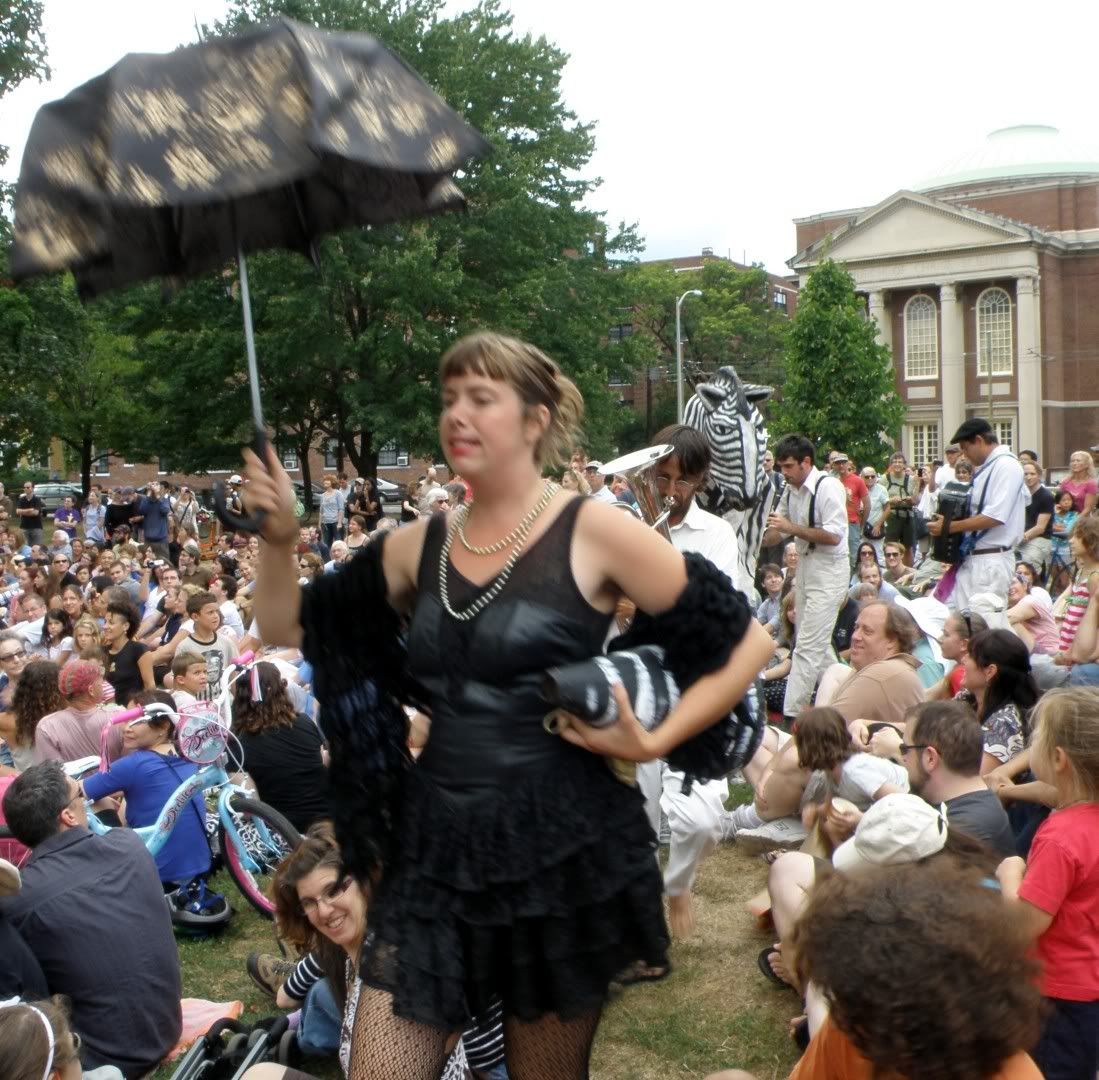 This was supposed to symbolize something, but I have no clue what:
In this skit, two turdlike and inarticulate politicians --- a democrat and a republican --- suppress the articulate and intelligent young woman, who represented "the third party." It was exceedingly silly, but still fun to watch.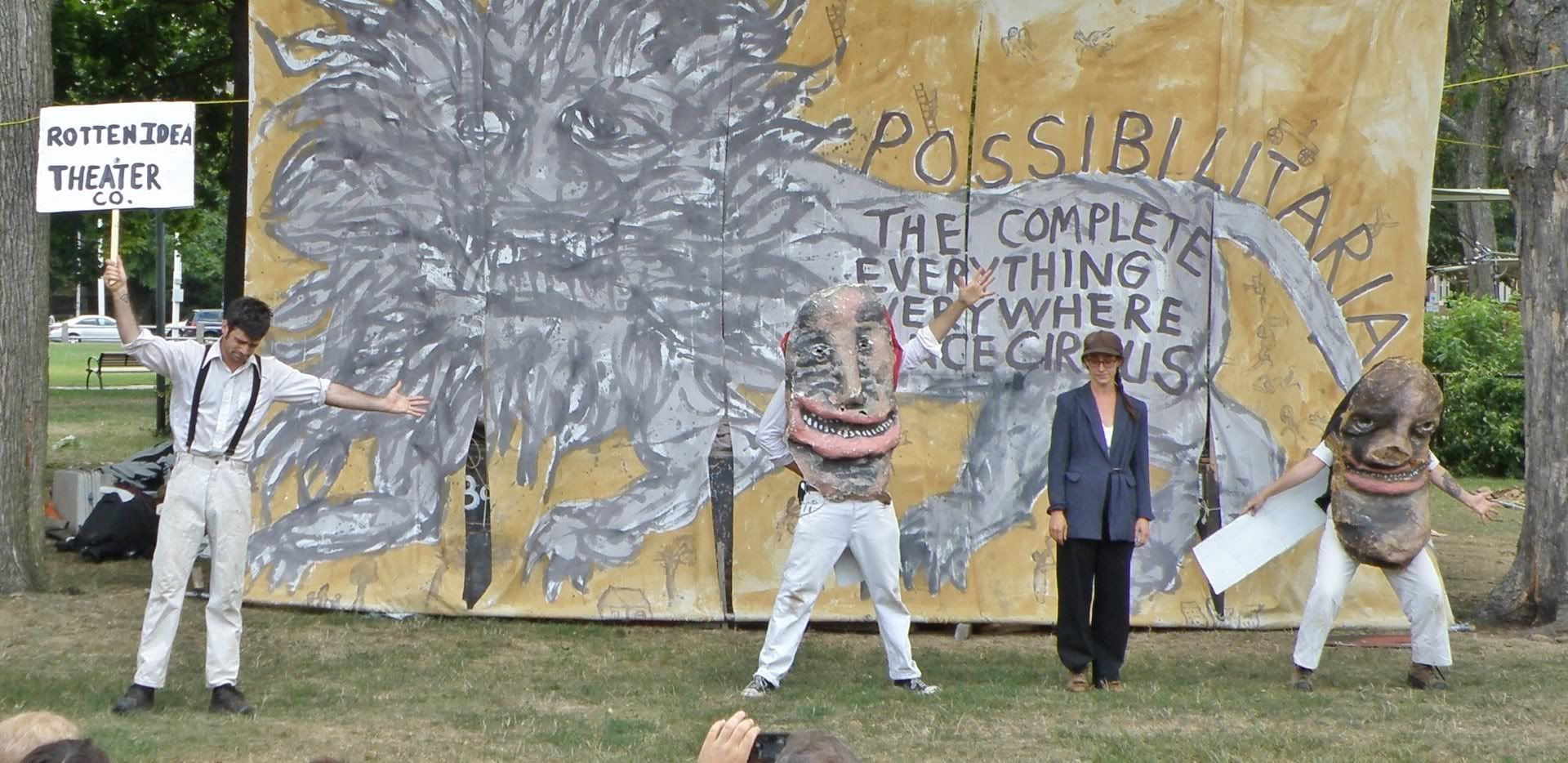 A long, quiet musical section began. Enter the lambs...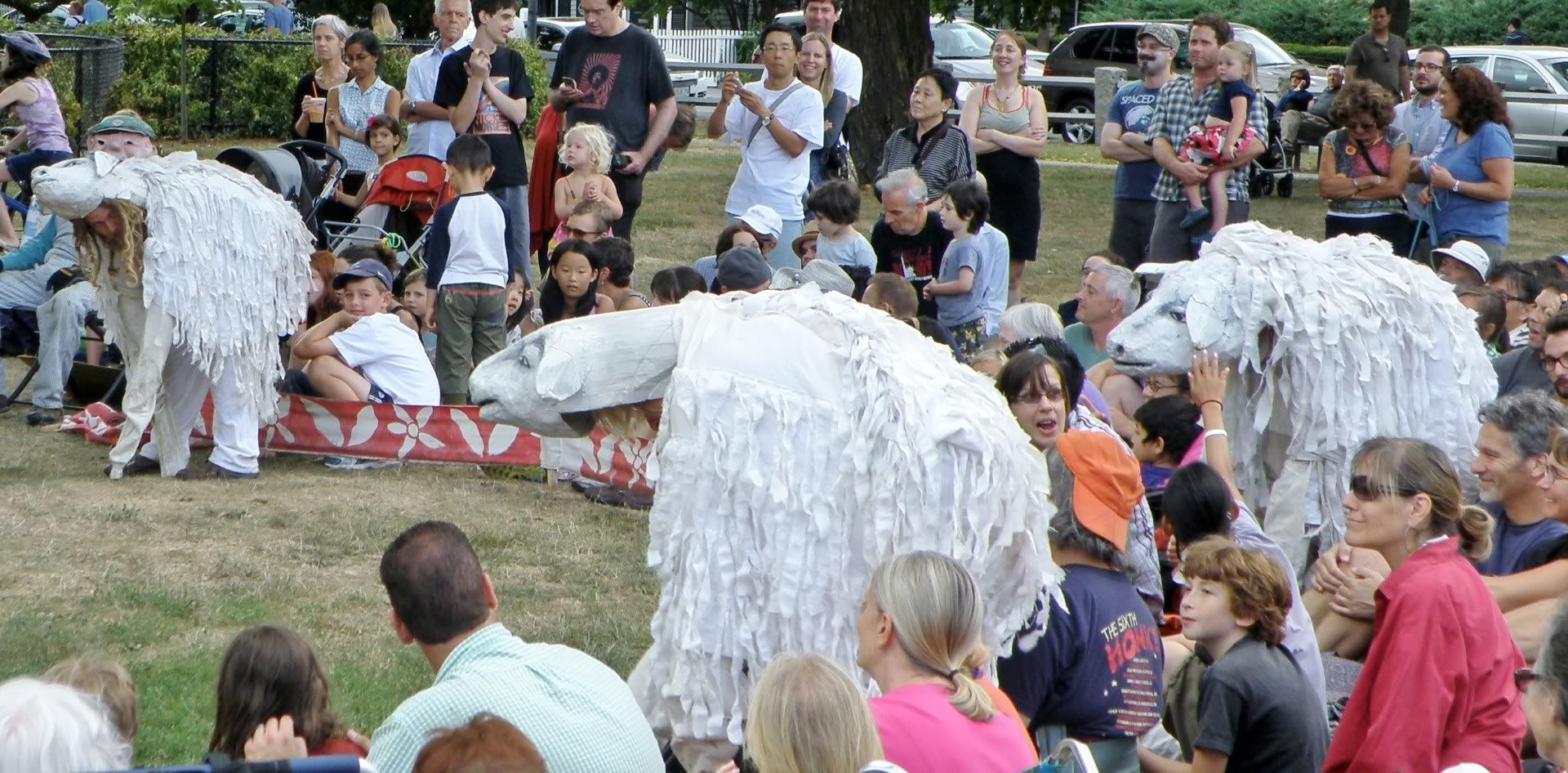 ... enter the lions...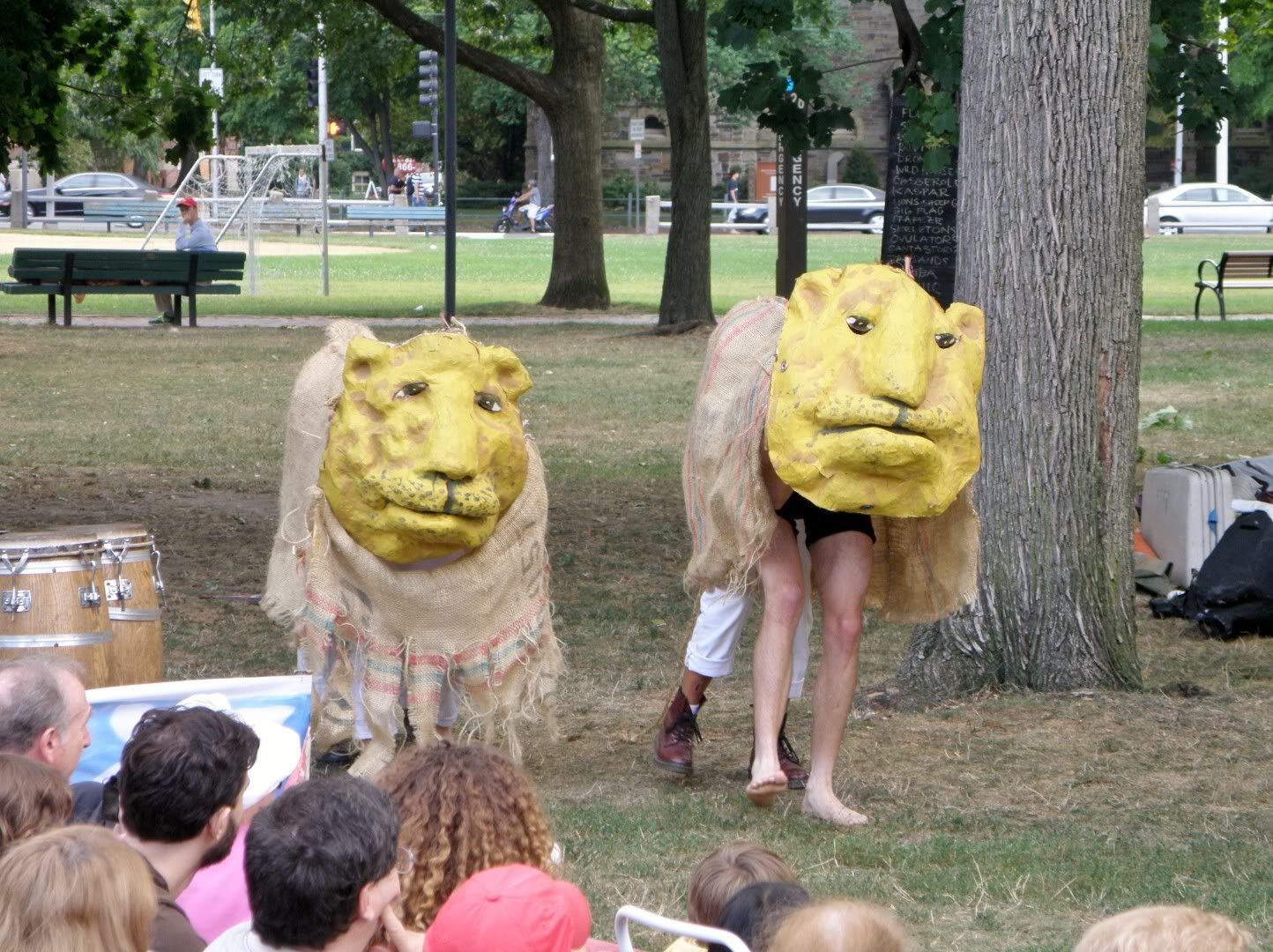 The lions lay with the lambs in a peaceful tableau, and then this sign appeared.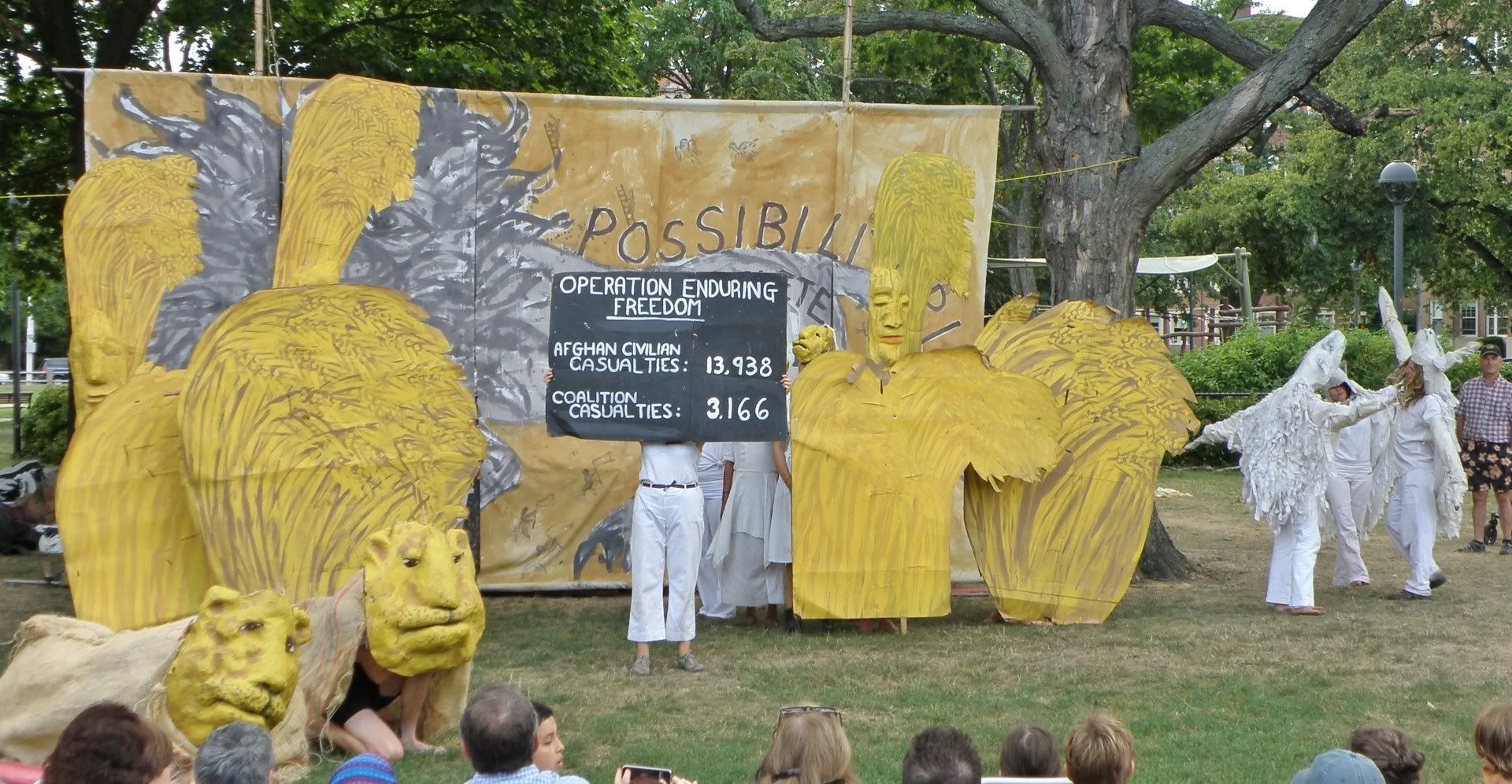 A flag waver performed during the next musical interlude.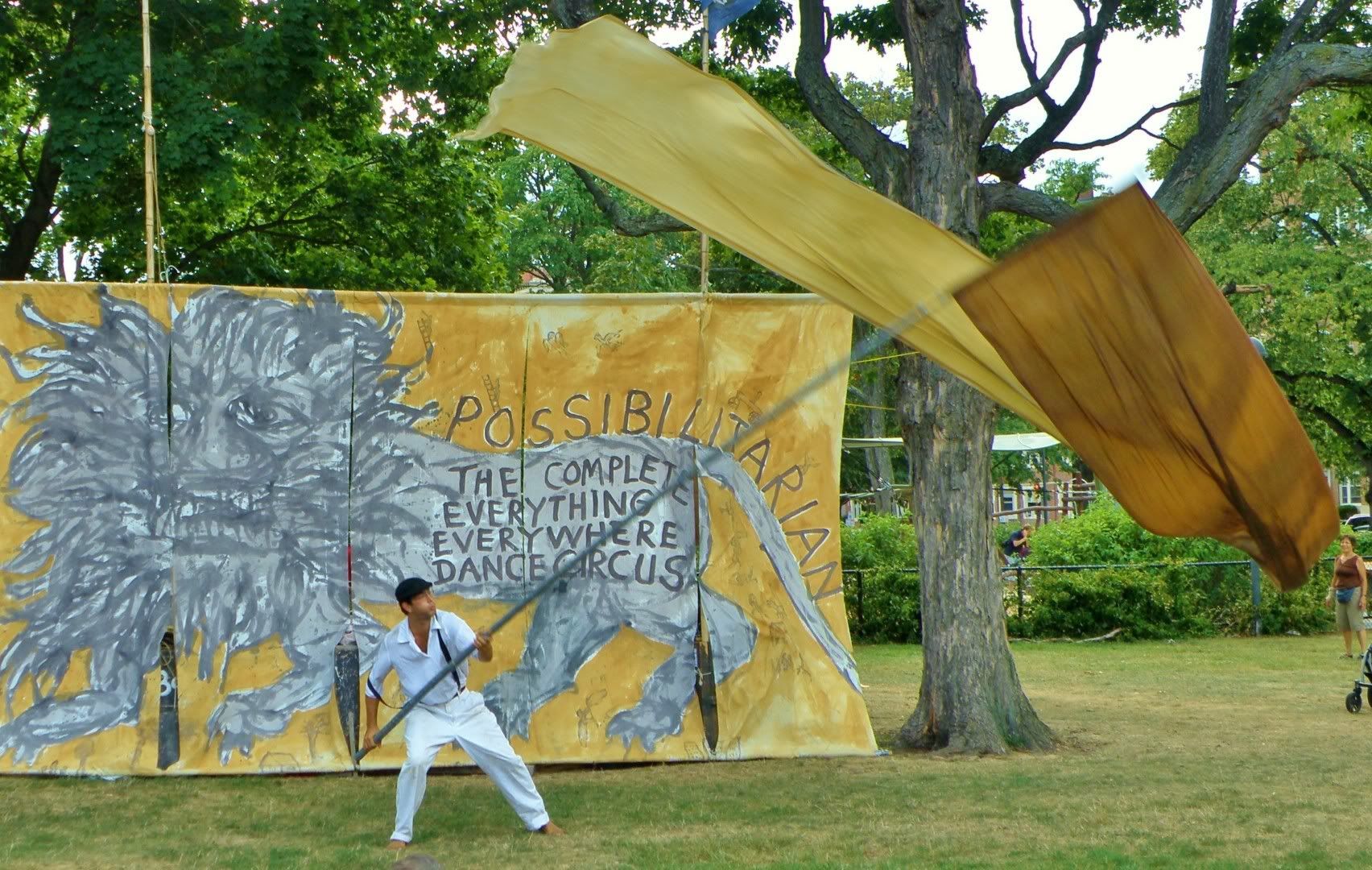 In one of the few completely apolitical skits, the "Big Nose Family" appeared...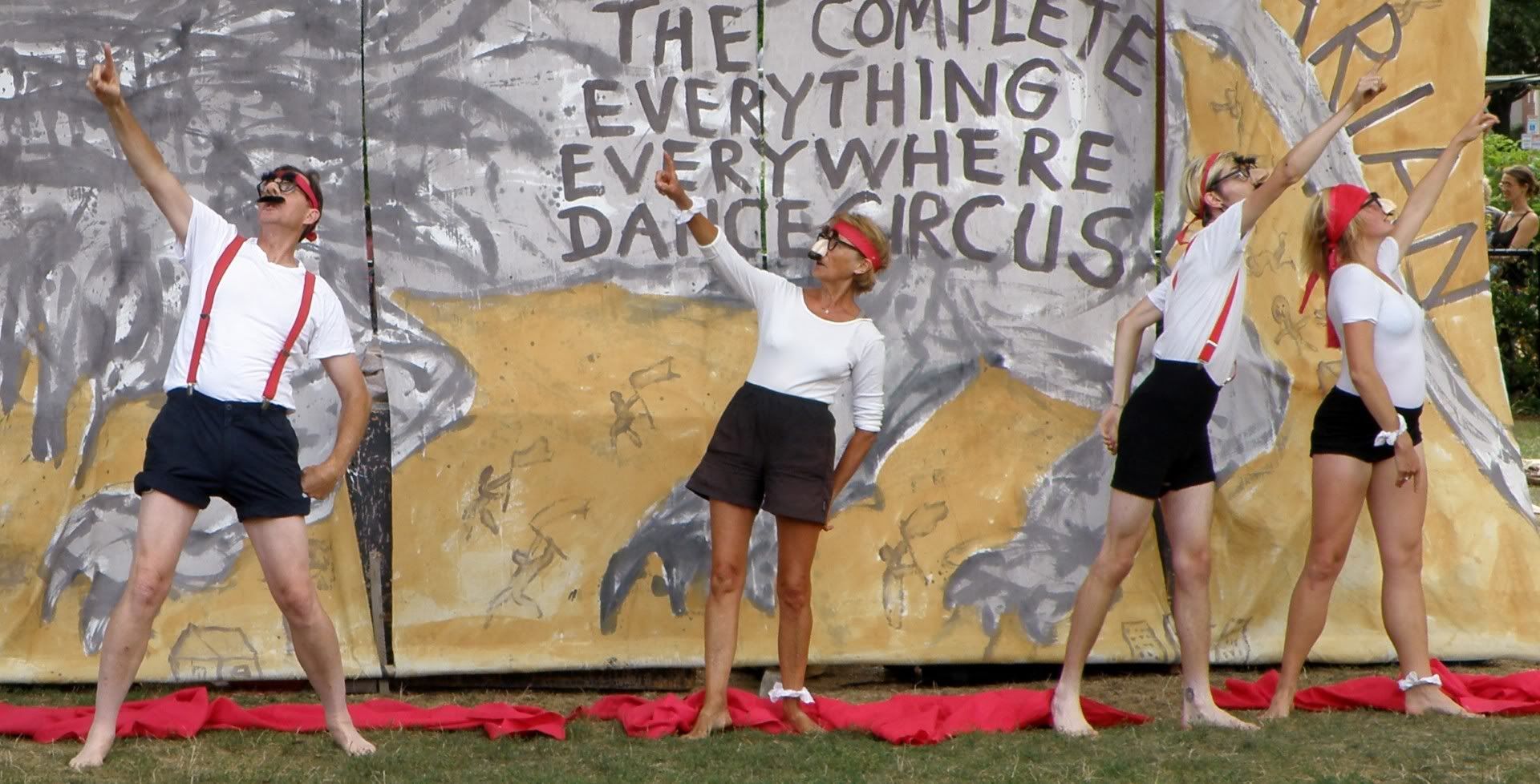 ... and did a perfectly wonderful miming of a trapeze act. It was hilarious.
Spectacular props here; this was supposed to illustrate the plight of Mexican women working in unsafe conditions along the US border.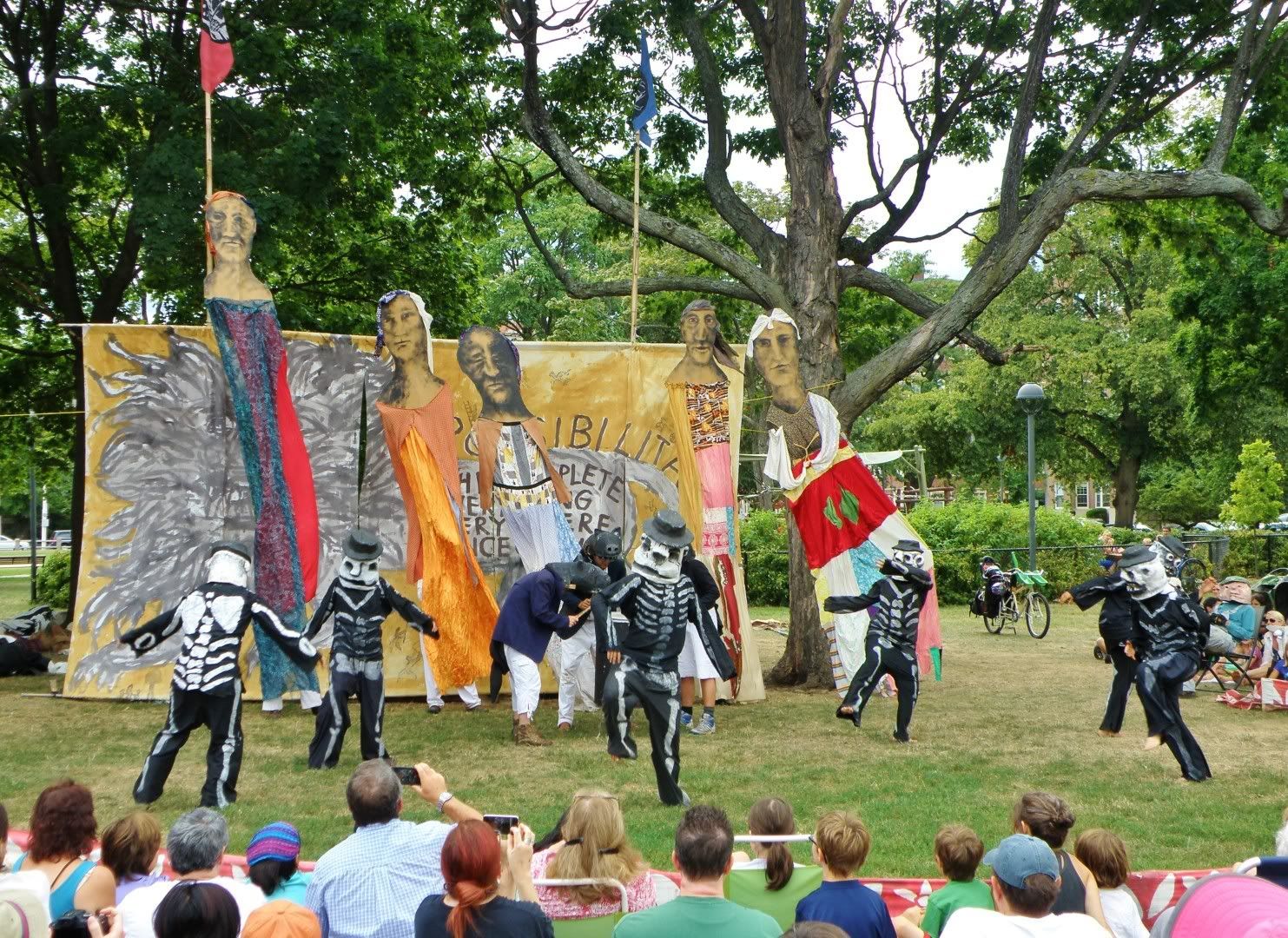 A funnier bit of political theater: a group of female superheroes --- "We are the Ovulators!" --- confront politicians over women's rights.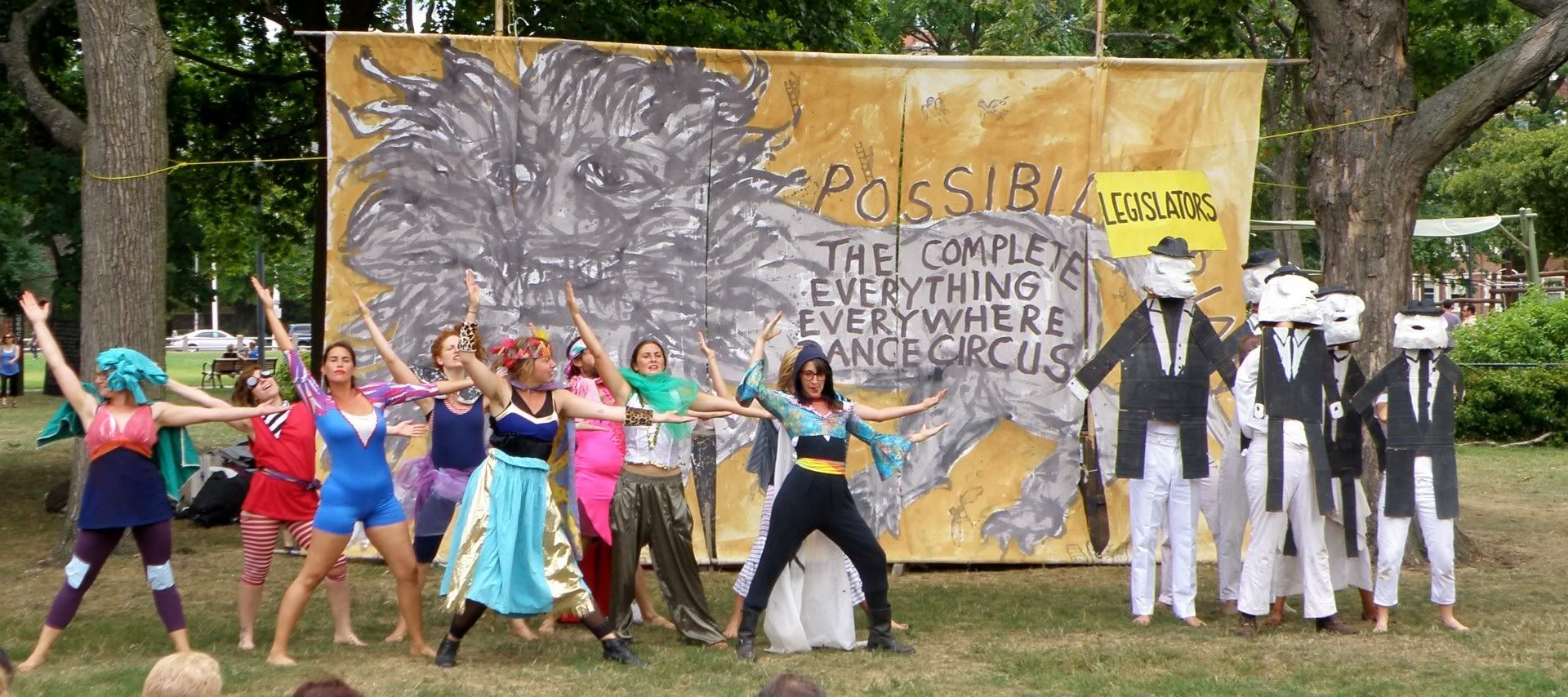 This skit commemorated the 100 year anniversary of the 1912 Lawrence (Mass.) "Bread and Roses" textile worker's strike; one of the first successful labor actions for women's rights in the US --- and very appropriate for Labor Day weekend.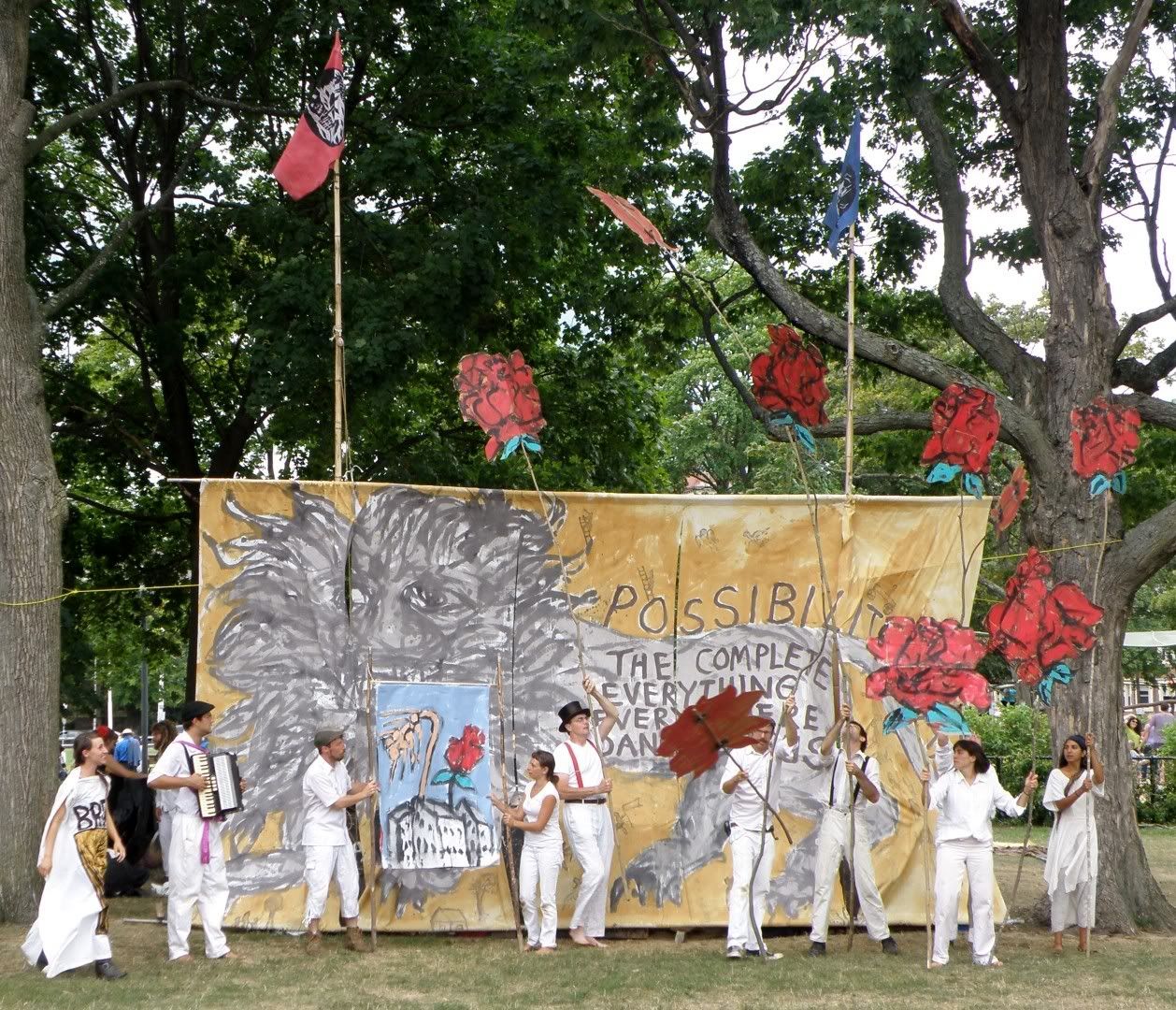 http://en.wikipedia.org/wiki/1912_Lawrence_Textile_Strike
http://en.wikipedia.org/wiki/Bread_and_Roses
Back to nonsubtlety: Here, the wolves or polar bears (hard to tell) are being engulfed by --- well, you can figure it out.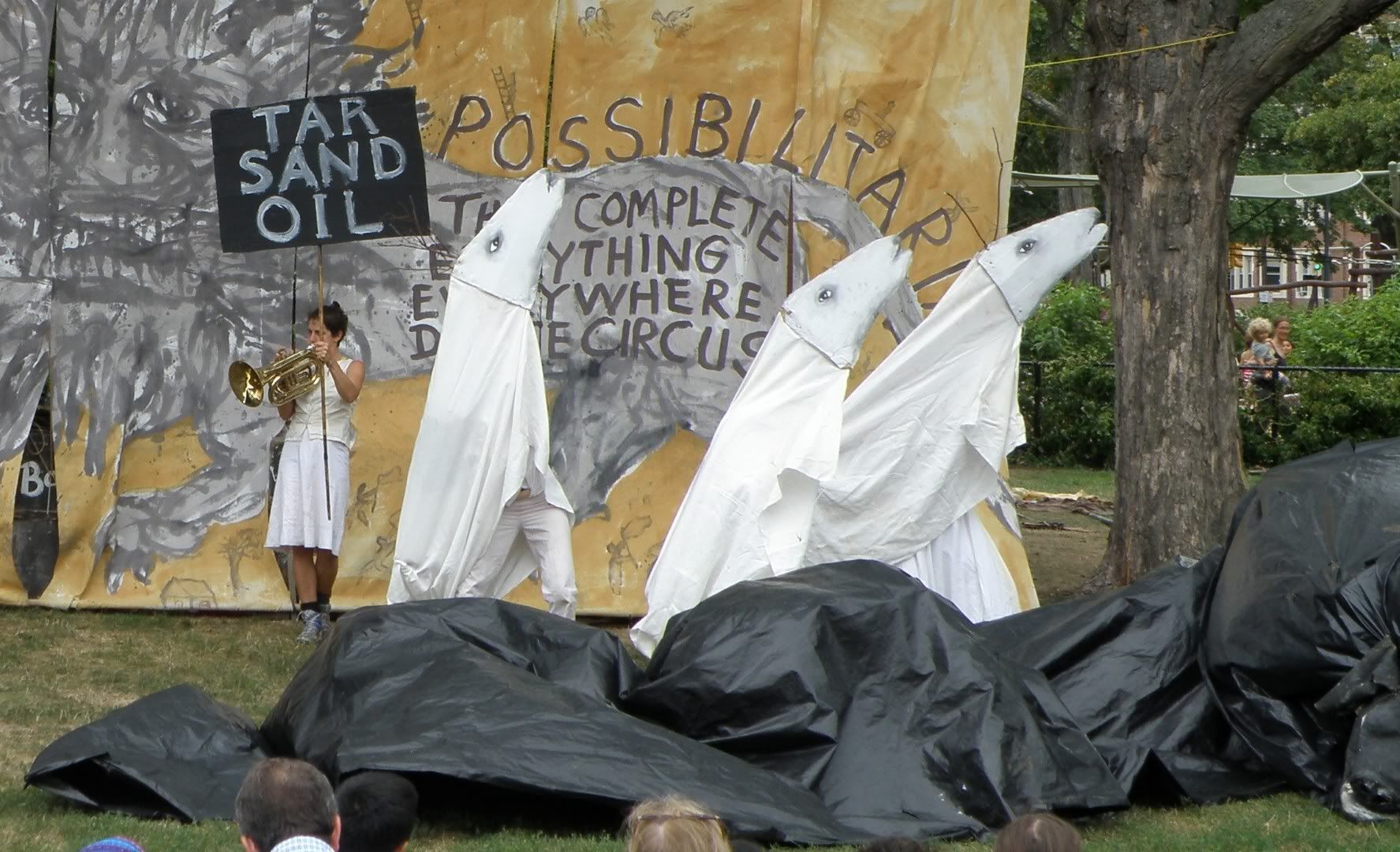 It left me wondering : If they're against wind power
and
fossil fuel, what are they for? Ah, well.
They did a funny skit about the Titanic II, now being built in China. Wealthy on the left, steerage to the right; and the ship goes down not from an iceberg, but because it hits the "island of trash in the Pacific."

Not sure what this was about:
"Bread and Puppet" is a rather literal name; like 'Panem et circenses;' they actually provide bread at the end of the show, as they pass around giant papier mache hats for donations.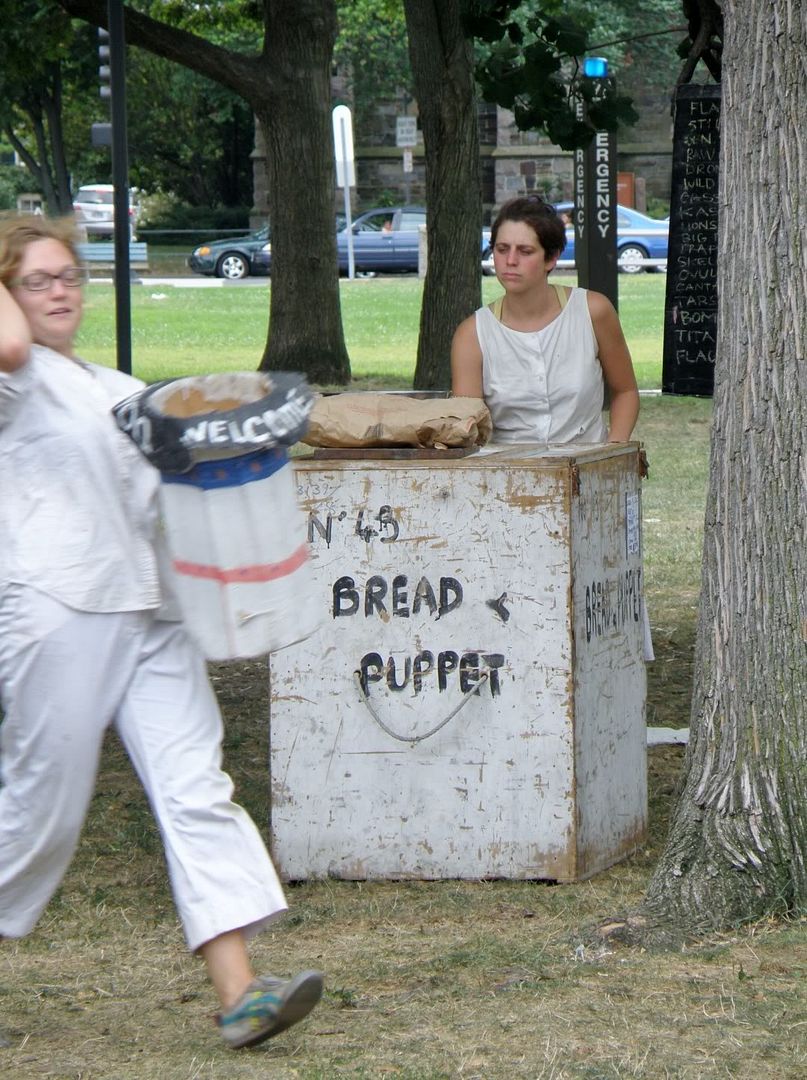 It was an enjoyable show, even if the political messages were muddled and painfully unsubtle. Still, it was fun.
So was the walk home: here, I was crossing the BU Bridge back into Boston as the city caught the slanting late afternoon sunlight. Gorgeous!

Fun afternoon!