The Massachusetts College of Art and Design is less than a mile from my apartment, and has several wonderful, free galleries open to the public.
http://www.massart.edu/Galleries.html
Currently, the Stephen Paine gallery is hosting Earth & Alchemy: contemporary ceramic sculpture. It's a very nice exhibit in an excellent, spacious gallery:
The brochure says:
Earth & Alchemy celebrates contemporary ceramic sculpture and showcases a cross-generational selection of over two dozen influential artists. Exploring a range of ideas encompassing conceptualism, social activism, materiality, and humor, this exhibition presents a survey of approaches to ceramics that often push the boundaries of one of the world's oldest media. Whether through expansive sculptures, extraterrestrial installations, or fantastical vessels, the artists included in the exhibition have developed novel techniques—such as using oven-baked backyard clay covered with house paints, layering slip over glaze to create richly textured and encrusted surfaces, or silk-screening digital imagery onto porcelain. Earth & Alchemy examines the depth and range of ceramic practice today—a macrocosm of clay.
The pieces were wonderfully varied. A sampling:
Bean Finneran's pieces are made of hundreds of ceramic "noodles," each slightly curved and about 8"/20cm long. The pieces (there's a second sculpture) are entirely free-standing: there's no internal frame or armature. The noodles are just stacked and interlocked, by hand, until the final form emerges.
I'm kicking myself for not getting this next artist's name, but I loved the pieces, which play perspective games with the viewer.
The smallest piece looks like a 3D jumble when you approach it:
But all become clearer when you view it obliquely. There are two independent images on the piece. One is visible from the left:
The other is visible from the right:
There are two other pieces in that series. One shows a complete image when viewed from the front, but shows only the foreground objects when viewed from the left; and only the background objects when viewed from the right. It's very clever --- and skillful.
Moving on, other pieces in the show are more traditional, like this lovely sculpture of mother and child by Akio Takamori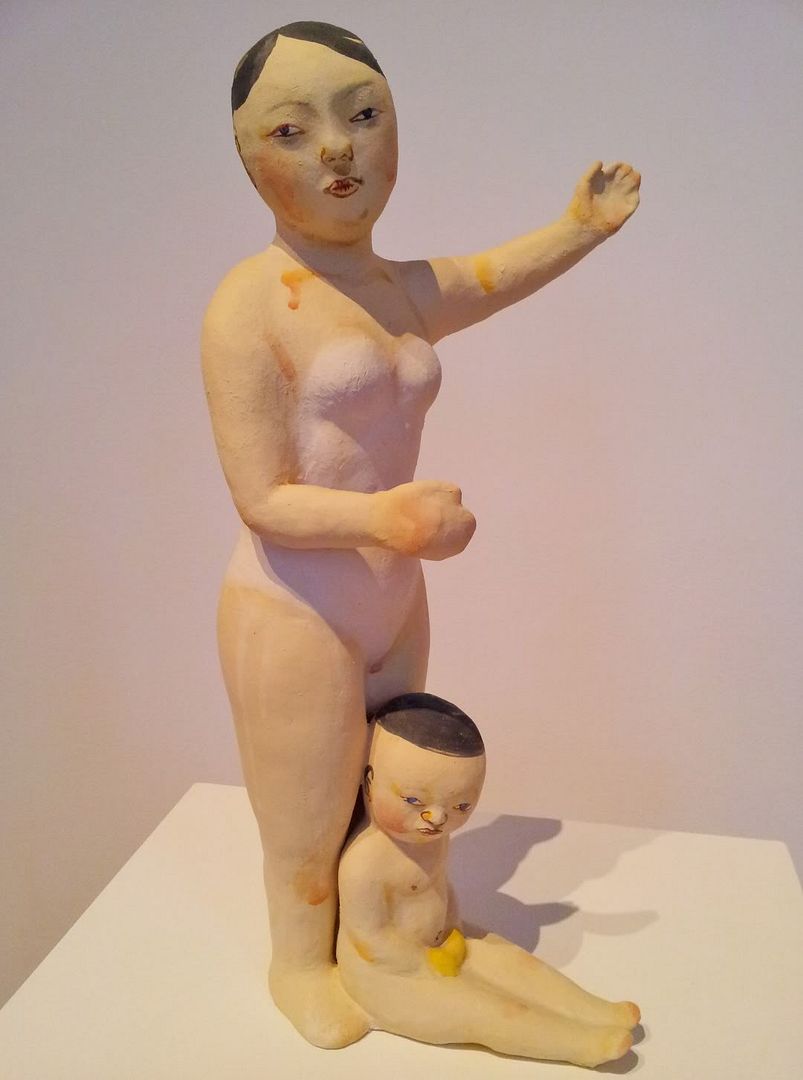 Some are fanciful, like Klara Kristalova's "Growing," a chimeric young girl/tree.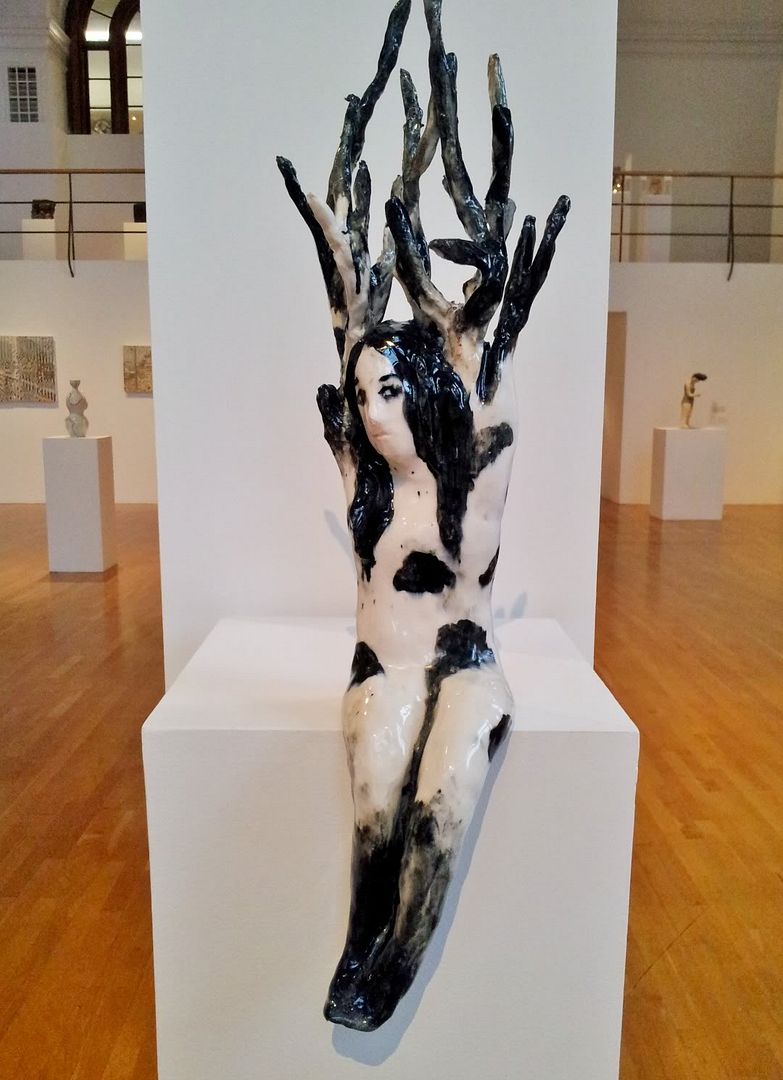 Some are 'in your face,' like Laurent Craste's series of formal vases that are constructed as if in the act of being damaged by darts, tire irons, or (in this case) an axe. It's like a sculpture of one frame from a high-speed movie.
And some are just beautiful objects, like this from Takayuki Sakiyama: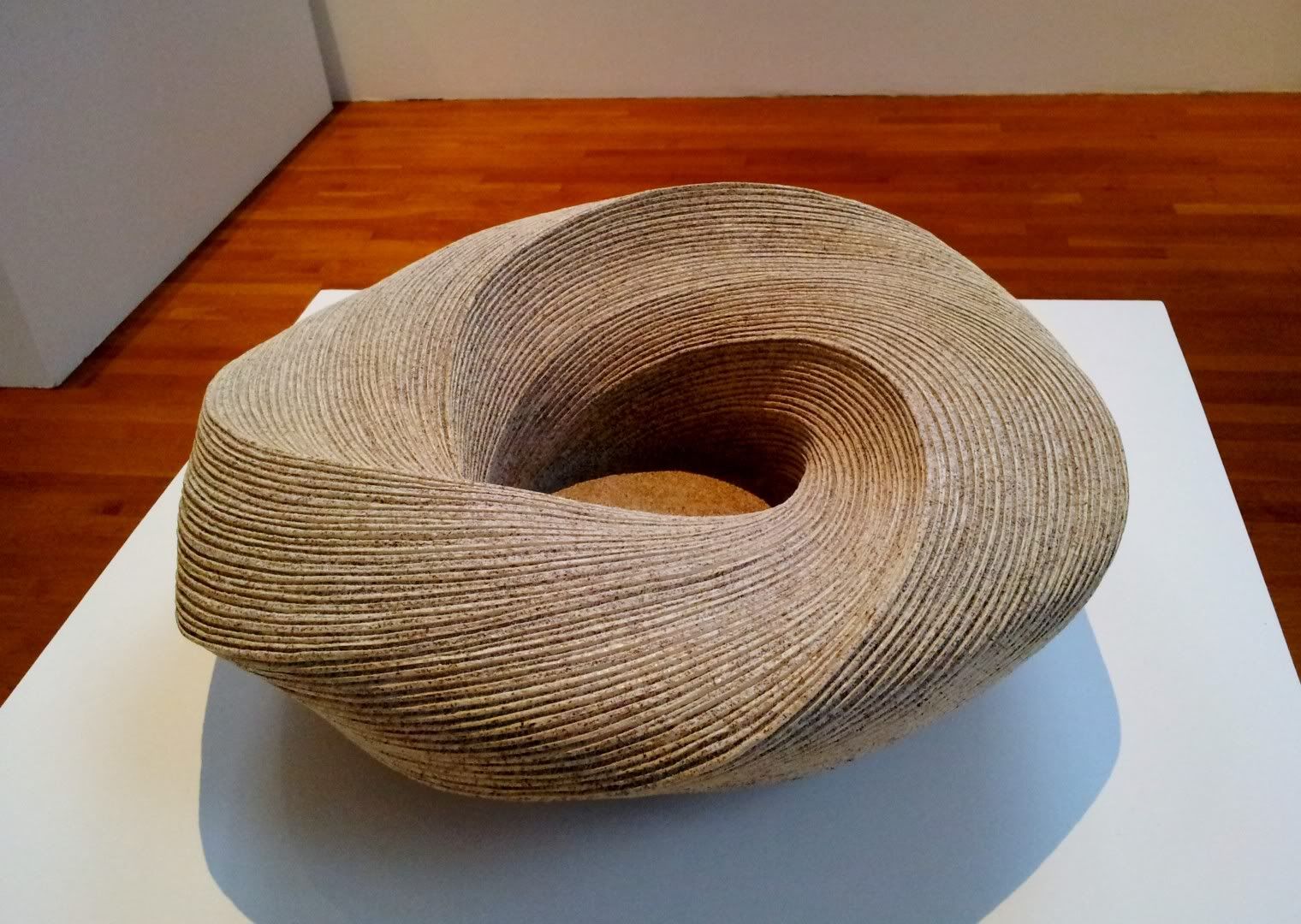 The above is maybe 1/10th of the ceramics on display. The show runs until Nov 24, and is worth a visit, if you're in the area.